Arizona Metal Buildings
from a AZ Steel Building Industry Leader
Buck Steel is an industry leading supplier of the highest quality Arizona metal buildings and steel building kits. With over a decade of experience supplying metal buildings to The Grand Canyon State, Buck Steel can help you turn your ideas into reality.

Whether the project is a simple steel garage in Gilbert, a metal warehouse in Phoenix, a steel church in Chandler, a retail metal building in Scottsdale, a raised center metal barn in Queen Creek, or a steel riding arena in Prescott, our knowledge of pre-engineered metal buildings and Arizona building codes combined with numerous completed projects helps to ensure your projects success.
Welcome to Buck Steel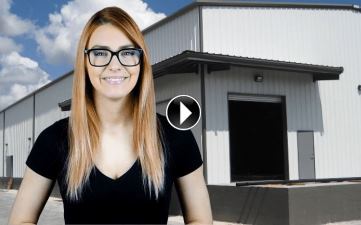 Buck Steel supplies pre-engineered metal buildings and metal garages for agricultural, aviation, church, commercial and retail, small business use.
Why Choose Us for

Arizona Metal Buildings
Buck Steel AZ EXPERIENCE

We have decades of Arizona steel building experience from simple backyard shops to complex commercial projects which helps to ensure your metal building project goes smoothly and stays on budget.

Buck Steel INTEGRITY

We are not a high pressure telemarketing metal building broker; we are metal building industry professionals and dedicated to serving our customers and to the success of their Arizona metal building projects.

Buck Steel VALUE

We understand that price matters. Our knowledge of Arizona metal buildings and thousands of completed projects allows us to value-engineer your project to save money.
Have Steel Building Questions?

We Have Answers!
Project Owners

CALL US and we'll explain the metal building process 'from quote to completion' and provide you with realistic budgeting numbers for materials, concrete and erecting.

General Contractors

CALL US and we'll explain our extensive commercial project experience, foundation design services, and ability to provide you with accurate quotes with preliminary drawings in days, not weeks.

Architects & Engineers

Whether you already specialize in PEMB design and are looking for an experienced company to work with or are new to using steel in projects and looking for guidance, CALL US for a free pre-design consultation.
Whether your Arizona steel building project is in Phoenix, Tuscon, Mesa, Chandler, Glendale, Scottsdale, Gilbert, Tempe, Peoria, Yuma, Prescott or in Fountain Hills, chances are there are Buck Steel metal buildings right in your own backyard!

Are you considering block construction, a pole barn or tubular steel building kit? If so, we encourage you to call us so we can explain the benefits of commercial red-iron Arizona metal buildings from Buck Steel.
| Use | Location | Size | Description |
| --- | --- | --- | --- |
| Garage | Chandler, Arizona | 40' x 60' | Custom Metal Garage Kit |
| Residential Shop | Gilbert, Arizona | 40' x 60' | Custom Residential Steel Garage |
| RV Storage | Scottsdale, Arizona | 30' x 60' | RV Storage |
| Warehouse | Phoenix, Arizona | 50' x 100' | Pre-Fab Steel Warehouse |
| Private | New River, Arizona | 50' x 90' | Automotive Restoration Metal Shop |
| Commercial | Glendale, Arizona | 50' x 75' | Office Warehouse Combo |
| Agricultural | Queen Creek, Arizona | 60' x 120' | Metal Barn |
| RV Storage | Prescott, Arizona | 40' x 60' | RV Storage Steel Building |
| Agricultural | Yuma, Arizona | 50' x 75' | Farm Metal Storage Building |
| Private Residential | Kingman, Arizona | 60' x 50' | Toy Storage |
| Industrial | Phoenix, Arizona | 32' x 60' | Industrial Storage Steel Warehouse |
| Boat Storage | Lake Havasu City, Arizona | 50' x 50' | Boat Storage |
| Private | Cave Creek, Arizona | 50' x 100' | Metal Garage |
| Commercial | Maricopa, Arizona | 30' x 65' | Commercial Steel Warehouse |
| Residential | Flagstaff, Arizona | 55' x 45' | Metal Shop Building |
| Aggricultural | Fort Mohave, Arizona | 50' x 80' | Steel Barn Storage |
| Private | Surprise, Arizona | 50' x 40' | Pre-Fab Metal Storage Building |
| Commercial | Goodyear, Arizona | 100' x 100' | Commercial Metal Warehouse |
| Worship | Tempe, Arizona | 50' x 100' | Multi-Purpose Steel Building |